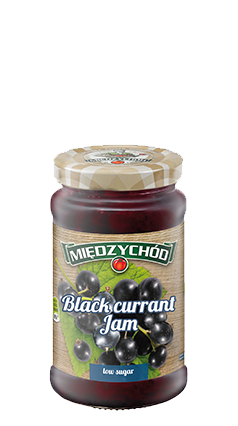 Strona główna » Produkty » Fruit products » Blackcurrant jam low-sugar
Blackcurrant jam low-sugar
Especially for you we have closed black currants in a jar, which are not only mouth-watering fruit, but also an excellent source of vitamin C. Our low-sugar jam on the basis of black currant fits well both with fine, roasted pork roast, as well as with popular cheesecakes.
Unique taste of childhood
Energia
657 kJ
155 kcal
8%*
Nutritional value
w 100g
DV
food energy
657 kJ
155 kcal
8%
Fats incl. acids
saturated acids
< 0,5g
< 0,1g
< 1%
< 1%
carbohydrates
incl. sugars
37g
37g
14%
41%
protein
< 0,5g
<1 %
salt
< 0,01g
< 1%

* DV – Percent Daily Values are based on a 2000 kcal u 8400kJ diet.
Ingredients
Ingredients: sugar, blackcurrants, water, gelling agent: pectin, acid stabiliser: citric acid
Dlaczego warto zjeść
Blackcurrant is among the healthiest fruits, a good source of vitamin C and fibre. It cleanses the body of toxins, boosts the immune system and favourably affects the heart, at the same time lowering blood pressure.