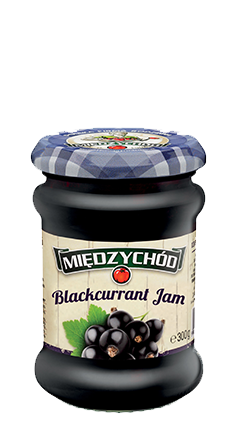 Strona główna » Produkty » Fruit products » Blackcurrant jam
Blackcurrant jam
For years, it has invariably been a favourite of those who have a sweet tooth and gourmands. It brings out the sweetness of desserts and enriches elegant food. It tastes great when it accompanies bread, cake, ice-cream as well as cheese or roasted poultry or pork.
Unique taste of childhood
Energia
1078 kJ
254 kcal
13%*
Nutritional value
w 100g
DV
food energy
1078 kJ
254 kcal
13%
Fats incl. acids
saturated acids
<0,5g
<0,1g
<1%
<1%
carbohydrates
incl. sugars
60g
60g
23%
67%
protein
<0,5g
1%
salt
0,03g
<1%

* DV – Percent Daily Values are based on a 2000 kcal u 8400kJ diet.
Ingredients
sugar, blackcurrants, water, gelling agent: pectin, acid stabiliser: citric acid
Dlaczego warto zjeść
Blackcurrant is among the healthiest fruits, a good source of vitamin C and fibre. It cleanses the body of toxins, boosts the immune system and favourably affects the heart, at the same time lowering blood pressure.