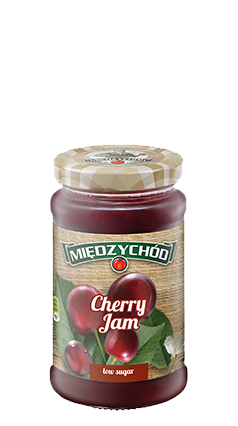 Strona główna » Produkty » Fruit products » Cherry jam low-sugar
Cherry jam low-sugar
Cherries are one of the most respected and popular fruit. Not only tastes great, but also are rich in nutrients and vitamins, which are essential for the proper functioning of our body. Cherry jam can be used even in combination with ice cream or cakes.
Unique taste of childhood
Energia
598 kJ
143 kcal
7%*
Nutritional value
w 100g
DV
food energy
598 kJ
143 kcal
7%
Fats incl. acids
saturated acids
< 0,5g
< 0,1g
< 1%
< 1%
carbohydrates
incl. sugars
34g
34g
13%
38%
protein
< 0,5g
<1 %
salt
< 0,01g
< 1%

* DV – Percent Daily Values are based on a 2000 kcal u 8400kJ diet.
Ingredients
Ingredients: sugar, cherries, acid stabiliser: citric acid, gelling agent: pectin.
Dlaczego warto zjeść
Cherries have anti-bacteria, detoxifying and anti-inflammatory properties. They also lower the level of bad cholesterol in blood.
A large content of carotene has a positive impact on the complexion and slows down skin aging.