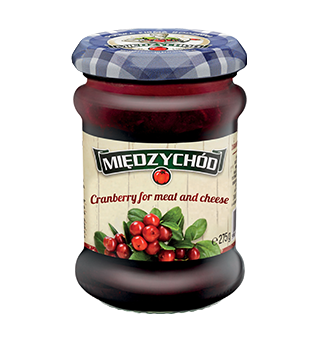 Strona główna » Produkty » Fruit products » Cranberry for meal and cheese
Cranberry for meal and cheese
If you look for electrifying experiences, think of our cranberry. It offers a delightful combination of a distinct aroma and an exceptional flavour. The sweet and sour notes intertwine with a delicate bitterness and a touch of tartness – an ideal companion of almost all food, be it cake, cheese or meat.
Unique taste of childhood
Energia
699 kJ
165 kcal
8%*
Nutritional value
w 100g
DV

food energy

699 kJ
165 kcal
 8%
Fats incl. acids
saturated acids
<0,5g
<0,1g
<1%
<1%
carbohydrates
incl. sugars
39g
38g
15%
42%
protein
<0,5g
<1%
salt
0,06g
<1%

* DV – Percent Daily Values are based on a 2000 kcal u 8400kJ diet.
Ingredients
Cranberries, sugar, water, gelling agent: pectin, acid stabiliser: citric acid.
Dlaczego warto zjeść
The exquisite culinary arrangements with cranberries are an ideal daily diet supplement as cranberries are a perfect source of pectin, fibre, microelements and a number of vitamins and carbohydrates.