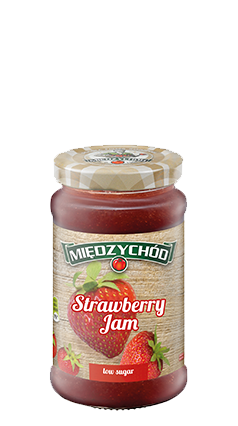 Strona główna » Produkty » Fruit products » Strawberry jam low-sugar
Strawberry jam low-sugar
Summer is the season to strawberry, which are loved by most of us, but thanks to our jams you can enjoy your favorite flavor throughout the year. You will feel the holiday atmosphere and taste even terribly frosty days. Unforgettable taste sensations guaranteed!
Unique taste of childhood
Energia
614 kJ
145 kcal
7%*
Nutritional value
w 100g
DV
food energy
614 kJ
145 kcal
7%
Fats incl. acids
saturated acids
< 0,5g
< 0,1g
< 1%
< 1%
carbohydrates
incl. sugars
35g
35g
13%
39%
protein
< 0,5g
<1 %
salt
< 0,01g
< 1%

* DV – Percent Daily Values are based on a 2000 kcal u 8400kJ diet.
Ingredients
Ingredients: sugar, strawberries, acid stabiliser: citric acid, gelling agent: pectin.
Dlaczego warto zjeść
Strawberries offer more than just the taste: they are rich in vitamins and minerals which condition human health and long youth. When you choose our jam you can be certain that it is devoid of chemical dyes, aromas, additives and preservatives.