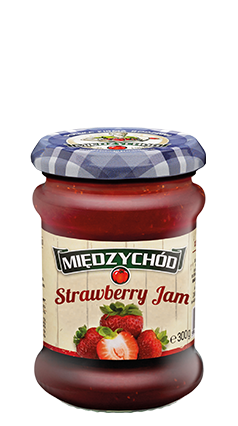 Strona główna » Produkty » Fruit products » Strawberry jam
Strawberry jam
The most popular jam flavour – to know it is to love it! With this feeling in mind, we collect top quality ripe strawberries. Our unique recipe results in a whiff of the summer even in the dead of frosty winter. The fruits' sweetness is highlighted with sugar, never with artificial additives.
Unique taste of childhood
Energia
1092 kJ
257 kcal
13%*
Nutritional value
w 100g
DV
food energy
1092 kJ
257 kcal
13%
Fats incl. acids
saturated acids
<0,5g
<0,1g
<1%
<1%
carbohydrates
incl. sugars
62g
62g
24%
69%
protein
<0,5g
<1%
salt
0,02g
<1%

* DV – Percent Daily Values are based on a 2000 kcal u 8400kJ diet.
Ingredients
sugar, strawberries, acid stabiliser: citric acid, gelling agent: pectin.
Dlaczego warto zjeść
Strawberries offer more than just the taste: they are rich in vitamins and minerals which condition human health and long youth. When you choose our jam you can be certain that it is devoid of chemical dyes, aromas, additives and preservatives.