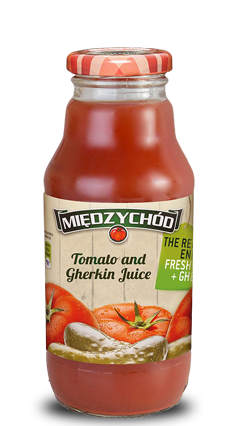 Strona główna » Produkty » Juices » Tomato and gherkin juice
Tomato and gherkin juice
We do hope that we can take you by surprise. Discover the unique taste of our new juice which is beyond comparison. Its deep aroma is truly delightful while the refreshing properties make it an excellent solution to quench thirst and to simply savour it. Tempting to taste!
From sieved Polish tomatoes and pickled cucumbers
Nutritional value
w 100g
DV

food energy

61 kJ
15 kcal
1%
Fats incl. acids
saturated acids
0,2g
<0,1
0%
0%
carbohydrates
incl. sugars
3,4g
2,2g
1%
2%

protein

0,9g
2%

salt

0,9g
14%

* DV – Percent Daily Values are based on a 2000 kcal u 8400kJ diet.
Ingredients
Fresh tomatoes ( 87%), pickled cucumbers (13%), cucumber brine, salt.
Dlaczego warto zjeść
Every day we should consume several portions of vegetables and fruits. Juices provide the human body with vitamins and minerals, especially in the autumn and winter. When opening a bottle of our juice, you will recall the taste and aroma of the summer, at the same time doing yourself a (healthy) favour.