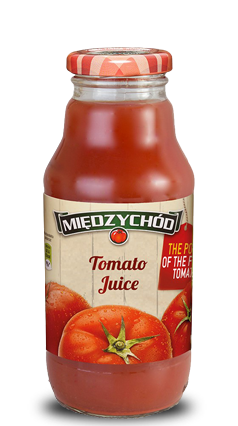 Strona główna » Produkty » Juices » Tomato juice
Tomato juice
As part of our response to the consumers' needs and queries, we have an excellent offer to drink on a daily basis, regardless of the occasion. The tomato juice has been made for anyone who appreciates the exceptional properties of the tomato and relishes its flavour. Taste our juice and you will not be disappointed.
From sieved Polish tomatoes
Nutritional value
w 100g
DV

food energy

62 kJ
15 kcal
1%
Fats incl. acids
saturated acids
0,2g
<0,1g
0%
0%
carbohydrates
incl. sugars
3,6g
2,3g
1%
3%

protein

0,9g
2%

salt

0,8g
14%
*

DV – Percent Daily Values are based on a 2000 kcal u 8400kJ diet.
Ingredients
Fresh tomatoes ( 99%), water, salt.
Dlaczego warto zjeść
Tomato juice is rich in lycopene and vitamin E which impede aging, vitamin C which boosts immunity and magnesium which, together with the group B vitamins, contribute to mental and physical well-being. Tomato juice is also a valuable source of potassium, a very important mineral for physically active individuals. Bearing in line this long list of benefits, this juice should undoubtedly be part of a healthy diet.