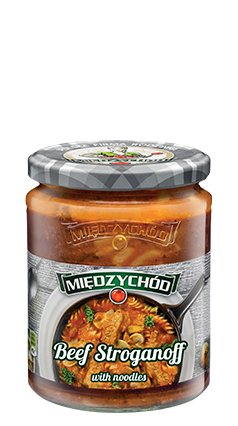 Strona główna » Produkty » Ready complete meals » Beef Stroganoff with noodles
Beef Stroganoff with noodles
This excellent meal has been taking the world by storm. Polish consumers are no exception here. As it is an ideal treat to be served with pasta, we put it into the jar together with the meat. All this to prepare a complete meal that heated up, is ready to be enjoyed in no time at all.
An interesting flavour for every day
No artificial: preservatives dyes or aromas additives
Energia
318 kJ
76 kcal
4%*
Nutritional value
w 100g
DV
food energy
318 kJ
76 kcal
4%
Fats incl. acids
saturated acids
2,9g
1,3g
4%
7%
carbohydrates
incl. sugars
7,9g
2,7g
3%
3%
protein
4,7g
9%
salt
1,2g
20%
*

DV – Percent Daily Values are based on a 2000 kcal u 8400kJ diet.
Ingredients
water, beef (18 %), onions (10 %), brine cucumbers (6.8 %), 30 % tomato paste (5 %), pasta (4.4 %) (durum wheat semolina, water),
12 % milk cream (from milk), wheat flour, sugar, dried mushrooms (1.3 %), salt, rapeseed oil, seasonings, vegetable broth (maltodextrin, salt, rapeseed oil, sugar, yeast extract, dried vegetables, dried herbs, seasoning mix).
Dlaczego warto zjeść
The soft beef in this meal comes exclusively from trusted suppliers to ensure that the consumers receive a top quality product, tasty and healthy alike.