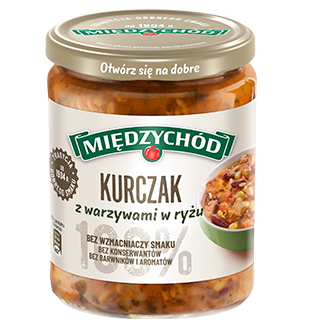 Strona główna » Produkty » Ready complete meals » Chicken and vegetables in rice
Chicken and vegetables in rice
One of the most popular meals in Poland. The juicy and large pieces of chicken are ready to eat after heating up. The accompanying vegetables and rice offer a nutritious lunch for one.
An interesting flavour for every day
No artificial: preservatives dyes or aromas additives
Energia
374 kJ
89 kcal
4%*
Nutritional value
w 100g
DV
food energy
374 KJ
89 kcal
4%
Fats incl. acids
saturated acids
2,1g
0,4g
2%
3%
carbohydrates
incl. sugars
11g
3,9g
4%
4%
protein
5,9g
12%
salt
1,1g
18%

* DV – Percent Daily Values are based on a 2000 kcal u 8400kJ diet.
Ingredients
water, chicken fillets (20 %), carrots (12 %), red onions (8 %), pineapple juice, dry red beans (4.5 %), corn (4.5 %), dry brown rice (4.4 %), 30 % tomato paste, sugar, wheat flour, 6 % wine white wine vinegar, salt, rapeseed oil, garlic (0.4 %), seasonings, vegetable broth (maltodextrin, salt, rapeseed oil, sugar, yeast extract, dried vegetables, dried herbs, seasoning mix).
Dlaczego warto zjeść
As a result of special preparation, the chicken meat is tender and soft. It is a source of valuable proteins of great importance to human diet as well as vitamins B6 and B12, phosphorus, iron, potassium and magnesium.