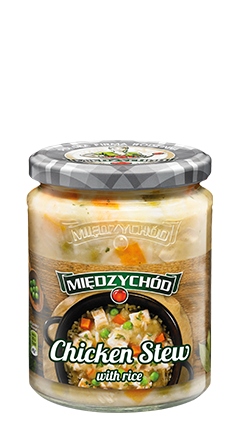 Strona główna » Produkty » Ready complete meals » Chicken stew with rice
Chicken stew with rice
A light, tasty and nutritious meal, an ideal family lunch offer as well as a meal for people who are always on the go. Once you taste it you will keep coming back for more of this taste.
An interesting flavour for every day
No artificial: preservatives dyes or aromas additives
Energia
379 kJ
90 kcal
5%*
Nutritional value
w 100g
DV
food energy
379kJ
90 kcal
5%
Fats incl. acids
saturated acids
2,5g
0,7g
4%
4%
carbohydrates
incl. sugars
11g
3,7g
4%
4%
protein
5,2g
10%
salt
1,1g
18%

* DV – Percent Daily Values are based on a 2000 kcal u 8400kJ diet.
Ingredients
water, chicken fillets (20 %), carrots (16,4 %), peas (11 %), dry brown rice (6 %), onions (4 %), 12 % milk cream, wheat flour, sugar, salt, celery (0.6 %), rapeseed oil, parsley (0.5 %), citric concentrate, seasonings.
Dlaczego warto zjeść
For a reason, chicken stew is among Polish people's favourites. It is unusual in the sense that it provides a well-balanced and nutritious meal which also has a low calorific content.