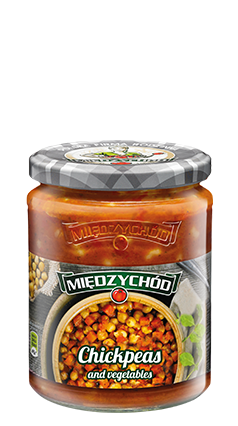 Strona główna » Produkty » Ready complete meals » Chickpeas and vegetables
Chickpeas and vegetables
Chickpeas' nutritious values make them an excellent substitute of meat. Combined with other vegetables and herbs, they result in a delicious and at the same time well-balanced meal. Barely several minutes after opening the jar, the consumers may enjoy its content.
An interesting flavour for every day
No artificial: preservatives dyes or aromas additives
A good source of protein and carbohydrates
Energia
341 kJ
81 kcal
4%*
Nutritional value
w 100g
DV
food energy
341 kJ
81 kcal
4%
Fats incl. acids
saturated acids
1,9g
0,3g
3%
2%
carbohydrates
incl. sugars
10g
4,6g
4%
5%
protein
3,8g
8%
salt
1,1g
18%
*

DV – Percent Daily Values are based on a 2000 kcal u 8400kJ diet
Ingredients
water, carrots (22 %), red peppers (20%), dry chickpeas (14.5 %), onions (7.5%), 30% tomato paste (3.6 %), wheat flour, salt, garlic
(0.8 %), rapeseed oil, vegetable broth (maltodextrin, salt, rapeseed oil, sugar, yeast extract, dried vegetables, dried herbs, seasoning mix), seasonings.
Dlaczego warto zjeść
Chickpeas are a very healthy plant rich in fibre, iron, potassium, phosphorus and B group vitamins. While their taste is excellent, they are also regarded an aphrodisiac.