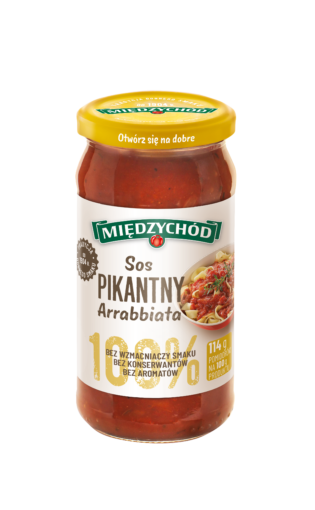 Strona główna » Produkty » Sauces » Hot Arrabbiata sauce
Hot Arrabbiata sauce
Our sauce with high content of tomatos and spices will surprise many fans of hot taste.

An exquisite flavour and consistency
No artificial: preservatives dyes or aromas additives
Energia
210 kJ
50 kcal
3%*
Nutritional value
w 100g
DV
food energy
210 kJ
50 kcal
3%
Fats incl. acids
saturated acids
< 0,9g
< 0,1g
1%
< 1%
carbohydrates
incl. sugars
8,7g
5,9g
3%
7%
protein
1,3g
3%
*

DV – Percent Daily Values are based on a 2000 kcal u 8400kJ diet.
Ingredients
tomatoes (114 g per 100 g of product), water, carrots 4%, sugar, onions 3%, red peppers 3%, garlic, rapeseed oil, salt, modified corn starch, spices (including Chili 0.5%).
Dlaczego warto zjeść
It is perfectly suited for both noodles and rice, making it an even more valuable addition to the food. Even after the first contact, it will become an indispensable element of your favorite dinner dishes.