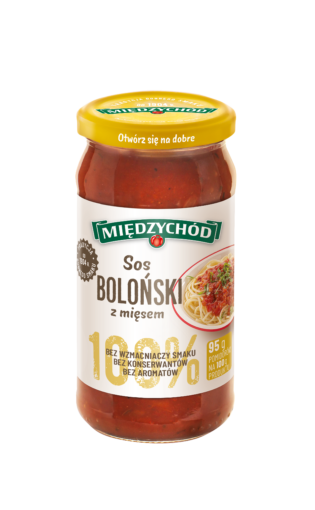 Strona główna » Produkty » Sauces » Bolognese meat sauce
Bolognese meat sauce
We have approached this most famous sauce with great care. Deliciously aromatic, it contains only top quality pork meat and vegetables, including lots of tomatoes. It tastes best when served with pasta or rice.
An exquisite flavour and consistency
One of the most popular sauces
No artificial: preservatives dyes or aromas additives
Energia
273 kJ
65 kcal
3%*
Nutritional value
w 100g
DV
food energy
273 kJ
65 kcal
3%
Fats incl. acids
saturated acids
2,2g
1,0g
3%
5%
carbohydrates
incl. sugars
8,0g
5,5g
3%
6%
protein
3,8g
8%
salt
1,3g
22%

* DV – Percent Daily Values are based on a 2000 kcal u 8400kJ diet.
Ingredients
tomatoes (95 g per 100 g of product), water, pork 16.3%, sugar, modified corn starch, carrots, onions, salt, rapeseed vegetable oil, garlic, seasoning.
Dlaczego warto zjeść
The exquisite texture and richness of the tomatoes and juicy meat call for using the sauce in many different ways: on top of a delicious pizza, with spaghetti, cannelloni, lasagne or in casseroles.