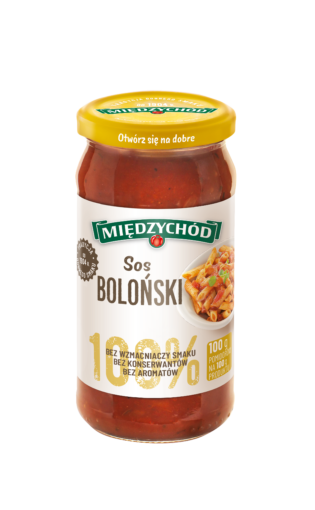 Strona główna » Produkty » Sauces » Bolognese sauce
Bolognese sauce
It was born in Bologna, but it also tastes great on Polish tables. It adds a unique flavour and perfectly complements with many popular dishes. Thanks to its excellent consistency, it will become one of your favorite food supplements and will be in your kitchen forever.
An exquisite flavour and consistency
No artificial: preservatives dyes or aromas additives
Energia
210 kJ
50 kcal
3%*
Nutritional value
w 100g
DV
food energy
210 kJ
50 kcal
3%
Fats incl. acids
saturated acids
< 0,9g
< 0,1g
1%
< 1%
carbohydrates
incl. sugars
8,7g
5,9g
3%
7%
protein
1,3g
3 %
salt
1,2g
20%
*

DV – Percent Daily Values are based on a 2000 kcal u 8400kJ diet.
Ingredients
tomatoes (100 g per 100 g of product), water, sugar, modified corn starch, carrots, onions, salt, rapeseed oil, garlic, spices.
Dlaczego warto zjeść
The sauce is rich in extremely healthy tomatoes, which contain even lycopene, an ingredient that inhibits the aging process. You can perfectly combine it not only with popular spaghetti, but also with lasagna or cannelloni.