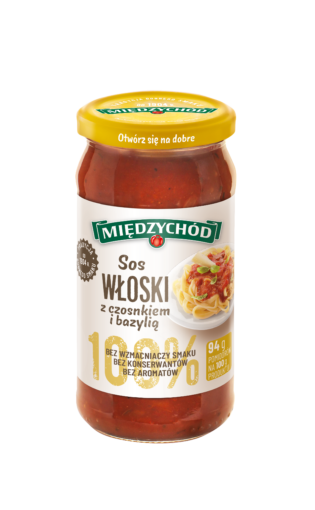 Strona główna » Produkty » Sauces » Italian sauce with garlic and basil
Italian sauce with garlic and basil
The flavour of our Italian sauce is so distinct that it cannot be confused with any other. A unique recipe, carefully selected vegetables and truly aromatic spices and herbs result in a velvety sauce that will make every meal a distinct one.
An exquisite flavour and consistency
No artificial: preservatives dyes or aromas additives
Energia
223 kJ
53 kcal
3%*
Nutritional value
w 100g
DV
food energy
223 kJ
53 kcal
3%
Fats incl. acids
saturated acids
0,9g
<0,1g
1%
0%
carbohydrates
incl. sugars
10,0g
6,8g
4%
8%
protein
1,2g
2%
salt
1,3g
22%

* DV – Percent Daily Values are based on a 2000 kcal u 8400kJ diet.
Ingredients
tomatoes (94 g per 100 g of product), water, sugar, garlic 3.7%, modified corn starch, onions, salt, rapeseed oil, spices (including basil 0.26%).
Dlaczego warto zjeść
The tomatoes in this sauce are a genuine gold mine of health as they contain iron, potassium, magnesium and vitamins A, K, C and PP.
On top of that, a large content of folic acid contributes to these vegetables' calming down properties.