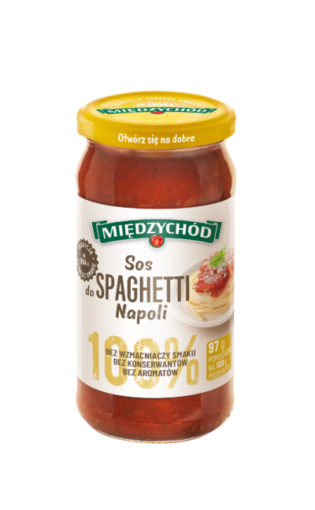 Strona główna » Produkty » Sauces » Spaghetti Napoli sauce
Spaghetti Napoli sauce
As our grandmothers used to say, sauce is at the heart of every cuisine… A truer word has never been spoken. We have prepared an unusual tomato sauce with a delicate and thick texture which requires only heating up to be added to your favourites meals.
An exquisite flavour and consistency
No artificial: preservatives dyes or aromas additives
Energia
254 kJ
60 kcal
3%*
Nutritional value
w 100g
DV
food energy
254 kJ
60 kcal
3%
Fats incl. acids
saturated acids
0,9g
<0,1g
1%
0%
carbohydrates
incl. sugars
12,0g
8,5g
5%
9%
protein
1,3g
3%
salt
1,1g
18%

* DV – Percent Daily Values are based on a 2000 kcal u 8400kJ diet.
Ingredients
tomatoes (97 g per 100 g of product), water, carrots 5.5%, onions 4.5%, sugar, red peppers 4%, modified corn starch, salt, rapeseed oil, garlic, spices, dried vegetables (onion, carrots, parsnips, celery, leeks, parsley).
Dlaczego warto zjeść
Tomato products like i.e. sauce contain few times more lycopene than the same amount of fresh tomatoes. Lycopene is very valuable antioxidant, which contributes to better health, improves the immune system and also allows us to enjoy longer with young appearance.