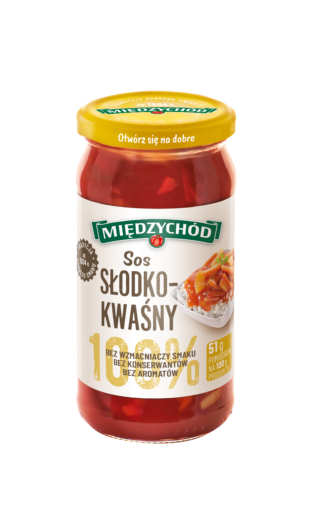 Strona główna » Produkty » Sauces » Sweet and sour sauce
Sweet and sour sauce
Surprise your loved ones by serving them a meal with a delightful oriental note. The distinct flavour and thick texture of this sauce with large chunks of vegetables and fruits is an opportunity to relish what nature has best to offer.
Large chunks of vegetables
An exquisite flavour and consistency
No artificial: preservatives dyes or aromas additives
Nutritional value
w 100g
DV
food energy
320 kJ
76 kcal
4%
Fats incl. acids
saturated acids
<0,5g
<0,1g
0%
0%
carbohydrates
incl. sugars
18,0g
14,0g
7%
16%
protein
0,8g
2%
salt
1,2g
19%

* DV – Percent Daily Values are based on a 2000 kcal u 8400kJ diet.
Ingredients
tomatoes (51 g per 100 g of product), water, pasteurised pineapple 9% (pineapple, water, sugar, acidity regulator: citric acid), sugar, red and green peppers 8.4%, onions 7.8%, carrots 6.5%, concentrated apple juice, bamboo shoots 3.6%, modified corn starch, salt, garlic, spices.
Dlaczego warto zjeść
The pineapple in this sauce is a tasty and healthy fruit, containing large quantities of fibre which satiates for a long time. Pineapple is regarded a good source of vitamins and minerals. It aids digestion, strengthens bones and teeth and positively affects eyesight.