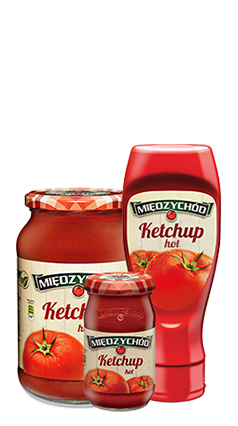 Strona główna » Produkty » Tomato products » Ketchup hot
Ketchup hot
Our ketchup is thick and distinct with a spicy note. We get the most out of the tomatoes and select the spices in order to offer something unique and capable of rounding off the flavour of many snacks and meals. We want you to enjoy the genuine pleasure offered by food.
No artificial: preservatives dyes or aromas additives
Energia
487 kJ
116 kcal
6%*
Nutritional value
w 100g
DV
food energy
487 kJ
116 kcal
6%
Fats incl. acids
saturated acids
0,6g
0,1g
1%
1%
carbohydrates
incl. sugars
27g
23g
10%
26%
protein
2,0g
4%
salt
1,9g
32%

* DV – Percent Daily Values are based on a 2000 kcal u 8400kJ diet.
Ingredients
tomatoes (204 g of tomatoes per 100 g of the product), water, sugar, 10% spirit vinegar, vegetables 6.2 % (carrots, celery), modified corn starch, salt, seasonings.
Dlaczego warto zjeść
On top of the obvious taste benefits, ketchup is a source of potassium which affects memory and concentration as well as the muscle system. Another element, beta-carotine, is responsible for a healthy and youthful appearance.