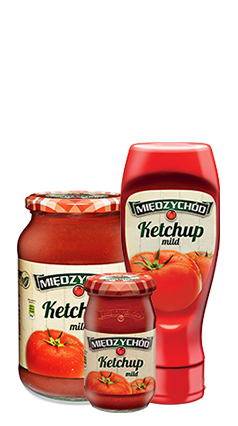 Strona główna » Produkty » Tomato products » Ketchup mild
Ketchup mild
Ketchup has made an international career and many people have tasted it many times. You will certainly taste the difference offered by the Międzychód ketchup. It stands out owing to its unique, delicate flavour and its thick, purée-like texture. We are certain that it will win your hearts and palates!
No artificial: preservatives dyes or aromas additives
Energia
409 kJ
97 kcal
5%*
Nutritional value
w 100g
DV
food energy
409 kJ
97 kcal
5%
Fats incl. acids
saturated acids
0,5g
0,1g
1%
1%
carbohydrates
incl. sugars
23g
19g
9%
21%
protein
1,7g
3%
salt
1,2g
20%

* DV – Percent Daily Values are based on a 2000 kcal u 8400kJ diet.
Ingredients
tomatoes (158 g of tomatoes per 100 g of the product), water, vegetables 21.4 % (carrot, celery, onion), sugar, 10% spirit vinegar, modified corn starch, salt, seasonings.
Dlaczego warto zjeść
Large doses of tomatoes in the daily diet lead to health and beauty. The red dye in tomatoes (lycopene) protects the heart and the nervous system and improves the condition of the skin, hair and finger nails. Tomatoes also contain large quantities of fibre which is a must in the daily diet.