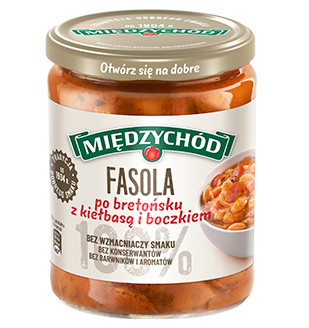 Strona główna » Produkty » Traditional ready meals » Baked beans and bacon stew
Baked beans and bacon stew
Returning to the sources we offer a really healthy dish. It always warms up and so it is at dinner or supper at home as well as in the bosom of nature. Expressive flavour, the one we care about at every stage of production accompanies the last bite and does not forget about one another.
No additives: preservatives dyes or aromas
Energia
621 kJ
148 kcal
7%*
Nutritional value
w 100g
DV
food energy
621 kJ
148 kcal
7%
Fats incl. acids
saturated acids
7,1g
2,4g
10%
12%
carbohydrates
incl. sugars
13,0g
3,8g
5%
4%
protein
6,5g
13%
salt
1,2g
21%
*

DV – Percent Daily Values are based on a 2000 kcal u 8400kJ diet.
Ingredients
water, dry white beans (18.5 %), smoked raw bacon (16 %), 30 % tomato paste (5 %), onions (3 %), wheat flour, sugar, salt, rapeseed oil, modified corn starch, vegetable broth (maltodextrin, salt, rapeseed oil, sugar, yeast extract, dried vegetables, dried herbs, seasoning mix), garlic (0.3 %), seasonings.
Dlaczego warto zjeść
A combination of beans (rich in plant-based protein, carbohydrates, unsaturated fatty acids, vitamins and microelements) and tomato sauce rich in lycopene plus aromatic bacon. A truly nutritious revelation.