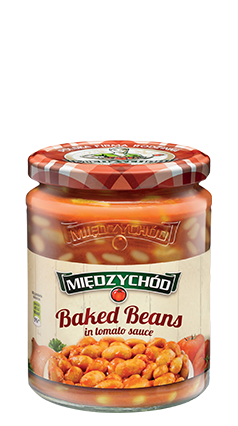 Strona główna » Produkty » Traditional ready meals » Baked beans in tomato sauce
Baked beans in tomato sauce
By returning to the roots, we offer a genuinely healthy dish. Ever since, it has warmed up and satisfied appetites during lunches and dinners served at home or in the open. The distinct flavour, tended to at every stage of the production process, lingers till the very last bite and refuses to be forgotten.
No additives: preservatives dyes or aromas
A unique, traditional flavour
Energia
362 kJ
87 kcal
4%*
Nutritional value
w 100g
DV
food energy
362 kJ
87 kcal
4%
Fats incl. acids
saturated acids
0,5g
<0,1g
1%
0%
carbohydrates
incl. sugars
18,4g
4,6g
7%
5%
protein
5,5g
11%
salt
1,0g
17%
*

DV – Percent Daily Values are based on a 2000 kcal u 8400kJ diet.
Ingredients
water, dry white beans (22.5 2 %), 30 % tomato paste (8.2 %), sugar, wheat flour, salt, celery (0.5 %), onions (0.5 %), parsley (0.5 %), black pepper.
Dlaczego warto zjeść
Beans are the third (following soybean and peas) best source of proteins, richer than meat. On top of that, they are a good source of vitamins A, B, E, PP and minerals like calcium, magnesium, zinc, phosphorus and iron. What is more, beans have a large dose of the concentration-enhancing lecithin.