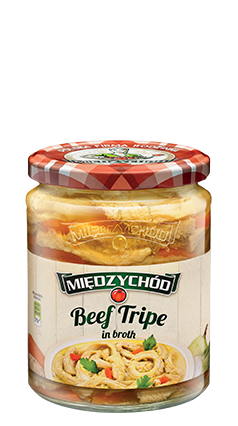 Strona główna » Produkty » Traditional ready meals » Beef tripe in broth
Beef tripe in broth
A suggestion of a nutritious, warming up, quick and original meal. Tripe is an excellent idea for lunch or dinner, not only for fans of Polish cuisine. The fine beef tripe enriched with a combination of vegetables and spices all round up to the traditional flavour.
No additives: preservatives dyes or aromas
Large chunks of vegetables
Energia
182 kJ
43 kcal
2%*
Nutritional value
w 100g
DV
food energy
182 kJ
43 kcal
2%
Fats incl. acids
saturated acids
1,5g
0,5g
2%
3%
carbohydrates
incl. sugars
0,9g
0,6g
<1%
1%
protein
6,4g
13%
salt
1,3g
22%

* DV – Percent Daily Values are based on a 2000 kcal u 8400kJ diet.
Ingredients
water, beef forestomachs (41 %), celery (4 %), parsley (3.5 %), carrots (3 %), salt, onions (0.7 %), rapeseed oil, vegetable broth (maltodextrin, salt, rapeseed oil, sugar, yeast extract, dried vegetables, dried herbs, seasoning mix), seasonings.
Dlaczego warto zjeść
Beef tripe is appreciated for its special flavour. It is also worth knowing that tripe is a good source of collagen which positively affects concentration and a youthful appearance. On top of that, tripe is a rich source of vitamin B2, calcium and iron.