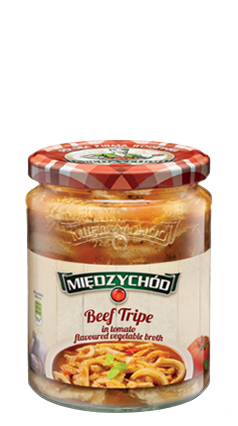 Strona główna » Produkty » Traditional ready meals » Beef tripe in tomato flavoured vegetable broth
Beef tripe in tomato flavoured vegetable broth
A traditional Polish meat dish enriched with tomatoes and resulting in an original food proposal with a distinct and hot flavour.
No additives: preservatives dyes or aromas
A unique, traditional flavour
Energia
205 kJ
49 kcal
2%*
Nutritional value
w 100g
DV
food energy
205 kJ
49 kcal
2%
Fats incl. acids
saturated acids
1,3g
0,4g
2%
2%
carbohydrates
incl. sugars
3,5g
1,0g
1%
1%
protein
5,6g
11%
salt
1,1g
18%
*

DV – Percent Daily Values are based on a 2000 kcal u 8400kJ diet.
Ingredients
water, beef forestomachs (35.6 %), wheat flour, onion (1.2 8 %), 30 % tomato paste (1.7 %), celery (1.2 %), parsley (0.9 %), vegetable broth (maltodextrin, salt, rapeseed oil, sugar, yeast extract, dried vegetables, dried herbs, seasoning mix), salt, carrots (0.7 %), modified corn starch, rapeseed oil, garlic (0.4 %), seasonings.
Dlaczego warto zjeść
King Władysław Jagiełło himself was an avid fan of tripe Zamość style. At present, it offers a combination of the unique flavour and easy preparation.