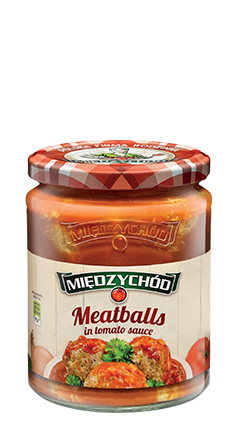 Strona główna » Produkty » Traditional ready meals » Meatballs in tomato sauce
Meatballs in tomato sauce
Meatballs are classics of Polish cuisine. They make for a very likeable and, first and foremost, a very tasty dish bound to be loved by anyone. They can be served in many ways: with rice, tomatoes, steamed vegetables or fresh bread. Whichever the additive, the traditional taste will certainly be appreciated.
No additives: preservatives dyes or aromas
A unique, traditional flavour
Energia
553 kJ
132 kcal
7%*
Nutritional value
w 100g
DV

food energy

553 kJ
132 kcal
7%
Fats incl. acids
saturated acids
8,9g
2,9g
13%
15%
carbohydrates
incl. sugars
8,6g
2,4g
3%
3%
protein
5,4g
11%
salt
1,1g
19%

* DV – Percent Daily Values are based on a 2000 kcal u 8400kJ diet.
Ingredients
water, pork (27.4 %), 30 % tomato paste (6.5 %), breadcrumbs (wheat flour, yeast, water, salt), carrots (3.6 %), wheat flour, parsley (2.4 %), onions (2 %), celery (1.1 %), sugar, salt, rapeseed oil, modified corn starch, vegetable broth (maltodextrin, salt, rapeseed oil, sugar, yeast extract, dried vegetables, dried herbs, seasoning mix), seasonings.
Dlaczego warto zjeść
Our meatballs contain not only tasty tomato sauce but also juicy pork rich in fibre and vitamin B1 affecting the nervous system. The meatballs are also a good source of the valuable unsaturated fatty acids.