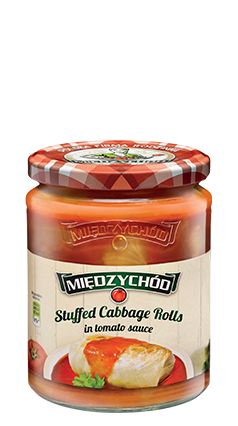 Strona główna » Produkty » Traditional ready meals » Stuffed cabbage rolls in tomato sauce
Stuffed cabbage rolls in tomato sauce
We know that stuffed cabbage rolls are so popular because they offer a simple and yet sophisticated meal. We have managed to maintain these values by resorting to a unique recipe and an easy to prepare meal chosen with one of the favourite Polish flavours in mind.
No additives: preservatives dyes or aromas
A unique, traditional flavour
Energia
415 kJ
99 kcal
5%*
Nutritional value
w 100g
DV
food energy
415 kJ
99 kcal
5%
Fats incl. acids
saturated acids
4,6g
1,4g
7%
7%
carbohydrates
incl. sugars
8,9g
3,6g
3%
4%
protein
4,9g
10%
salt
1,2g
20%

* DV – Percent Daily Values are based on a 2000 kcal u 8400kJ diet.
Ingredients
white cabbage (40 %), pork (22 %), water, 30 % tomato paste (4.5 %), white rice (4 %), onions (2.3 %), wheat flour, salt, sugar, modified corn starch, rapeseed oil, carrots (0.4 %), celery (0.3 %), parsley (0.3 %), vegetable broth (maltodextrin, rapeseed oil, sugar, yeast extract, dried vegetables, dried herbs, seasoning mix), seasonings.
Dlaczego warto zjeść
In line with the old Polish tradition, our products are manually rolled into white cabbage leaves. This vegetable has a low calorific content and offers a considerable dose of vitamin C which alleviates the symptoms of a cold and contributes to a youthful appearance.