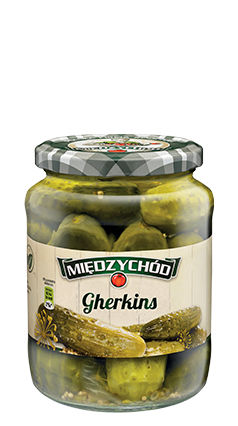 Strona główna » Produkty » Gherkins » Gherkins
Gherkins
Gherkins are undoubtedly one of the products we find indispensable in every Polish households. We have selected perfect vegetables and seasoning, put them into a practical jar to be available whenever you feel like eating them.
Exquisite for sandwiches, starters and snacks
Energia
153 kJ
36 kcal
2%*
Nutritional value
w 100g
DV

food energy

153 kJ
36 kcal
2%
Fats incl. acids
saturated acids
0,2g
0,1g
0%
0%
carbohydrates
incl. sugars
8,3g
7,7g
3%
9%

protein

0,6g
1%

salt

1,3g
22%

* DV – Percent Daily Values are based on a 2000 kcal u 8400kJ diet.
Ingredients
fresh cucumbers, water, 10% spirit vinegar, sugar, onions, salt, dill (0.8 %), mustard seeds (0.5 %), horseradish, allspice, black pepper, spice extract.
Dlaczego warto zjeść
Water represents 95% of a cucumber which makes it one of the least calorific vegetables. It cleanses the body and contains various microelements (potassium, calcium, iron, magnesium and phosphorus) and a considerable amount of vitamin K required for blood coagulation.