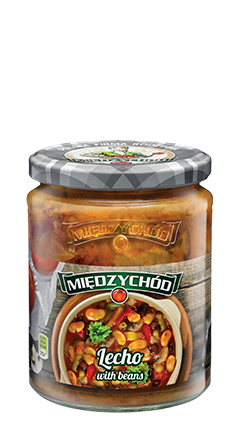 Strona główna » Produkty » Ready complete meals » Lecho with beans
Lecho with beans
A popular stew, healthy and nutritious. We suggest a version where the meat has been replaced with beans, peppers, champignons and of course tomatoes. Our recipe offers a bouquet of summer flavours to be enjoyed regardless of the season or appetite.
An interesting flavour for every day
No artificial: preservatives dyes or aromas additives
Energia
276 kJ
66 kcal
3%*
Nutritional value
w 100g
DV
food energy
276 kJ
66 kcal
3%
Fats incl. acids
saturated acids
1,1g
0,1g
2%
1%
carbohydrates
incl. sugars
12g
2,7g
5%
3%
protein
3,3g
7%
salt
1,2g
20%
*

DV – Percent Daily Values are based on a 2000 kcal u 8400kJ diet

.
Ingredients
water, onions (25 %), pasteurised tomatoes (7 %) (tomatoes, tomato juice, citric stabiliser - citric acid), 30 % tomato paste (5.5 %), green beens (4 %), yellow beans (4 %), red peppers (4 %), wheat flour, dry white beans (3 %), dry red beans (3 %), yellow peppers (3 %), green peppers (2 %), dried mushrooms (1.8 %), sugar, salt, vegetable broth (maltodextrin, salt, rapeseed oil, sugar, yeast extract, dried vegetables, dried herbs, seasoning mix), rapeseed oil, garlic (0.3 %), seasonings.
Dlaczego warto zjeść
The string beans (yellow and green) in the meal are a good source of folic acid, fibre, iron, potassium and phosphorus – these ingredients are necessary for the body to function properly.